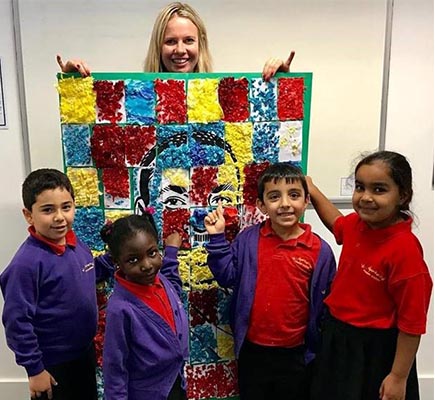 Newsletter October 2018

From Head teacher, Sharon Parson

Dear Parents and Carers,

I know that many of you have already seen me in and around school, but this month is officially my start date.

I am excited for the future of Woodpecker and have many plans to ensure the school continues its journey towards excellence.
In my short time here I already feel like 'part of the furniture' because staff, parents and children have been so welcoming.
Already, we have implemented some small but important changes.
Homework

You should now know that your child will be given weekly homework on a Friday, and that this will be due back the next Wednesday.
Homework is extremely beneficial as it helps to reinforce what your child learns in school, so your help with this is very important.
New after school clubs

We have also introduced a range of additional after school clubs run by our teachers. The clubs have already proved to be very popular and many of them are now full.
If your child did not receive their club of choice this term, I am sorry but they will be added to the list for Spring term and will be given the opportunity to participate then.
INSET days

I would like to apologise for the change to some of the dates of our Inset days. There are however, exceptional circumstances for the changes.
We have moved the Inset days from the 7th January 2018 and 3rd May 2019 to the 19th October and the 20th and 21st December. There is a need for the school to work on improving the curriculum and it was important to begin this immediately. 
We have the opportunity to plan and implement for this on these days and hope that you understand that by focusing on improving the curriculum we support your children to thrive and achieve the best possible outcomes. Thank you for your patience and support with this.
School Uniform
Please can I remind you that children should only wear appropriate school uniform.
Children should have the red Woodpecker T-shirt, the purple Woodpecker jumper or cardigan and black skirt/trousers. Please refrain from buying grey skirts and grey trousers as this is not the correct uniform.
The school also has Woodpecker rucksacks and book bags. Children must use these bags - instead of bringing their own.

Lateness
I have already noticed that we have an issue with lateness in our school. I cannot stress enough the importance of bringing your child to school on time. When your child arrives late they miss the first part of the morning and then have to spend time catching up in class, this obviously is not the best way to start the day. School begins at 8.30am and finishes at 3.00pm.
Harvest Festival
Thank you for all of the contributions made by our Woodpecker families to harvest festival, we were able to collect a range of tins and dry goods to support the food bank in our local area. We were praised by the food bank for donating the equivalent of no less than 600 meals. A special thank you to Ms Gibson and staff for helping to make the vent a success.

Visit by an Olympic athlete
Many of the children enjoyed the visit by a Olympic athlete, Peter Bakare,the British volleyball player.

They took part in a variety of sporting activities and learned important skills. They were also inspired by Peter's professional story as he described a range of difficulties that he had to overcome along the way to his amazing journey to the Olympic games.
Peter's visit was funded by a charity. Thank you for raising £1952 for the school to use to get more sports equipment!
Premier League football kits:
Both the boys and girls football teams are fully kitted out in their brand new Nike kits sponsored by the premier league
PTA relaunch
I am delighted that new Chair, Tara Gordon, has been organising meetings of the new PTA. I know they have lots of plans for the coming months. Well done for organising a successful Lego Card swap.
You can get more information about the PTA here.