Opening evening at Heron Hall Academy

Open Evening in the school - Tuesday, 5 October, 5.30pm-7.30pm.
We are holding an open evening for families on Tuesday, 5 October, 5.30pm-7.30pm.
This will be your chance to visit the school, meet teachers, see the classrooms and all our fantastic facilities.
There will also be a presentation by our Headteacher, Mr Arthur Barzey.
You can ask questions and find out more on the night.
Please come along and see why we believe you should make us your first choice.
Online Open Evening - Friday, 8 October, 5.pm-6pm
If families cannot come to the school we are also holding an online meeting.
This will be organised via Microsoft Teams.
Microsoft Teams can be accessed either via a browser on a PC/ laptop or through the Microsoft Teams App on a phone. It is free to use. 
You will be prompted to download the free app when you click on the meeting link.
Meeting link: To be advised.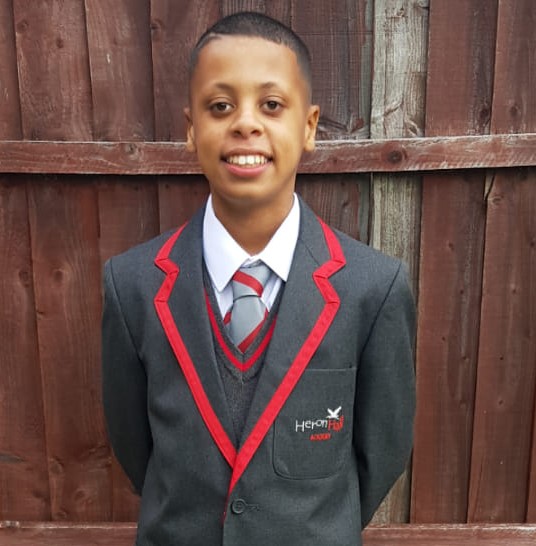 Joe's story
Joe came to Heron in September 2020.
We filmed him through his first year in the school.
You can watch 6 short films on YouTube about Joe and how he has made the transition from primary to secondary school here.
School Tours

The school has decided to hold small distanced tours Monday 11 - Fri 15 October  9am-10am.
You must book in advance to go on a tour. 
Masks must be worn unless you have a medical condition.

Two of our amazing Year 9 students, Macy and Edward, have made a virtual tour of the school.
This will give Year 6 parents and carers a chance to find out a lot more about our wonderful school.
Thank you to our talented students for making the film!
School prospectus
Find out a lot more about Heron Hall by reading our prospectus. Download a copy 
here.
For the fourth year in a row, we have enjoyed great GCSE results, with year on year improvements in many subjects. Fantastic teaching and learning is at the heart of everything we do.
We also insist on a strong emphasis on pastoral care. So let us show you why we think you should make us your FIRST choice!
You can see our results 
here.
Learning at Heron Hall in Year 7
We've made short films describing what your child will learn with us in the first year.
What we expect from our students
Student achievement is recognised in a variety of ways throughout the year. For day to day achievements in class work and home learning, teachers and tutors issue positive merits for students; these merits are recorded onto our school system, certificates are awarded to those who achieve a high number of merits in each form class. You can read more
here.
Apply now for your secondary school place
Online admissions opened on 31 September 2021. The application deadline is 31 October 2021. You can apply for a place at the school 
here.
Watch a cartoon made about the school by one of our very talented students
Before you know it your child will be celebrating GCSE results day!