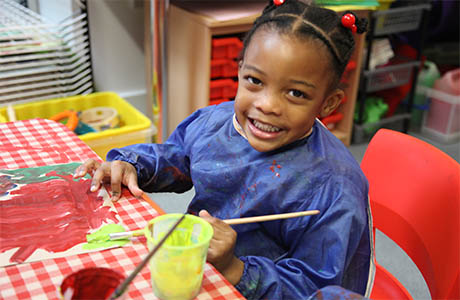 Welcome to Spring term

Welcome to Spring term and the new and exciting learning journey called 'People who help us'. 
'People who help us' is a wide-ranging topic with plenty of opportunity for the children to make connections between themselves and the outside world. We are aiming at making the children more aware of the different jobs and roles people take on in their own homes, in school and in their local community.
This learning journey includes aspects of the local community, from friends to childminders and from shopkeepers to fire fighters. There are lots of people who help us in the community, and it is great for the children to learn about them. Some of these people help us in emergencies, like doctors and nurses, firefighters and police. Knowing more about them provides key life skills for children, for example, knowing how to dial the emergency services or who to ask if they get lost. Other people help us to stay safe, warm and healthy, like opticians, builders and refuse collectors.

Additionally, learning about 'People who help us' can also help allay fears for children who worry about going to visit dentists or have concerns about intruders or fire. We are also hoping that by talking about different roles and responsibilities in the community we will help to break down gender stereotypes and promote equal opportunities for everyone.

This term we will exploring these different roles through stories, role play and videos, and we are hoping to give the children lots of exciting and different opportunities related to the topic, such as visits in the local area, visits from people in the community and opportunities within the school.

If you work in any of these areas or have any close links with "People who help us" from our local community please get in touch with a member of staff from the Nursery as we would love to help you get involved.
Forest school ethos in nursery
All Nursery classes are now able to use the wonderful Ayse's garden (in the main Woodpecker Hall playground playground) on a weekly basis to have their additional outdoor sessions which will offer the children an insight into the 'Forest School' ethos. Children will have access to natural resources and learning opportunities in the fresh air.
As they explore trees and plants, leaves, sticks, insects, mud and activity games, they become more comfortable in a natural setting where they learn a range of new practical skills, becoming more independent, using their imagination, and initiating learning for themselves.

Forest School initiative is an invaluable opportunity for children to learn and play outside in the fresh air.
If your child has a pair of wellies and a hooded jacket, please send them to school on Wednesdays for Rosen classes and on Thursdays for Carle class. If you don't have wellies, don't worry, just let us know.
Find out more about Forest school here.

Please don't hesitate to contact us if you have any questions.