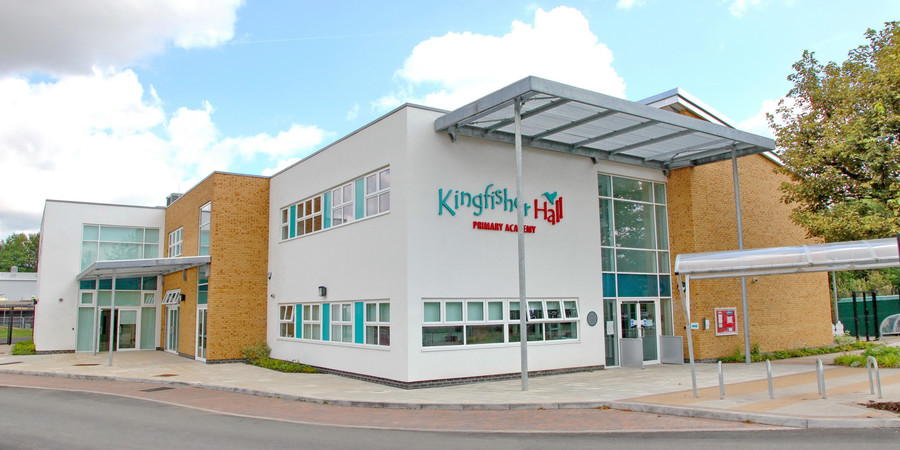 The Kingfisher Hall academy building
Kingfisher Hall, like Woodpecker Hall, is a brand new Primary Academy set up under the current Government's new "Free Schools" initiative. It is also a two forms of entry primary academy.
Miss Emma Breckenridge became the Headteacher of Kingfisher Hall in September 2015 (she is also the Headteacher of Enfield Heights Academy, one of our other CHAT academies).
Kingfisher Hall opened in September 2012, with two Reception classes and two (part-time) Nursery classes (morning and afternoon), giving an initial pupil roll for 2012-13 of 120.
Since September 2015, its pupil roll has grown to become 300.
It will continue to grow by one year group every year, until it reaches its full pupil roll of 480 pupils in September 2018.
Initially, Kingfisher Hall pupils were housed and taught in accommodation within Cuckoo Hall Academy in Cuckoo Hall Lane, Edmonton N9, whilst the brand new academy building was being constructed. Kingfisher Hall pupils and staff then moved in on-time into their fabulous new academy premises in mid-September 2013.
The new academy is a purpose-built, state-of-the art two-storey building (see image above), located just off The Ride in Enfield Highway, on land which forms part of CoHENEL, the College of Haringey, Enfield and North East London.
Kingfisher Hall is located approximately one mile north of the Cuckoo Hall/Woodpecker Hall campus.